About Free Time Calculator
As responsibilities mount and it becomes harder to spend time idle, it is important to have a time calculator in order to schedule your day more efficiently. Productivity and efficiency are some of the biggest issues that you deal with and having a day calculator or hour calculator is going to make you an efficiency machine. It is important for you to realize just how important software tools are for your business and personal life. Make sure that you are making the right choices when it comes to getting software and you are going to find yourself saving heartache and pain.
The user interface with this time calculator is better than you have ever seen in your life. Every problem that you have had with your existing time calculator has been removed in order to create a user interface that is easy to use and perfect for everyone. You don't have any computer or software experience? Not a problem! This time calculator is created with you specifically in mind. Almost everyone needs to calculate time and there is no reason to do so with poor quality software. Make sure to get the right time calculator for whatever needs you have.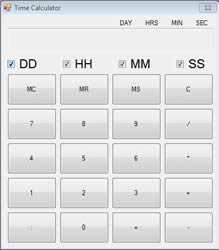 Getting the right time efficiently is not an easy task and those who are dedicated to finding software to help them should find this useful. There are no other software programs that focus on providing the most accurate and efficient time as this one, which is why it has gotten so many great reviews by existing users. With so many people eager to get the right time and calculate accurately, there is no better software than this one. Whether for personal or professional use, the time calculator can help to provide great service without missing a single beat.